NUMBERED BOTTLES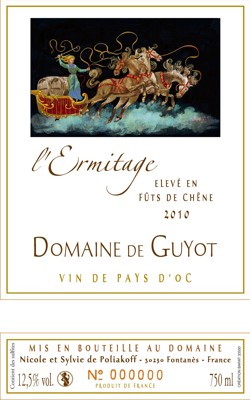 Silver Medal
Grands vins du Languedoc-Roussillon 2010
Average production :
3 000 bottles of 750 ml
Alcohol content: 12,5 %
VIN DE PAYS DU LANGUEDOC red
Merlot – Grenache – Syrah
Mas Guyot is an estate of Languedoc, near Sommières, settled in the Garrigues between Nîmes and Montpellier.
In the vineyard
The vineyards, planted on well-oriented hillsides, take advantage of a maximum of sunshine. Mix of clay and limestone soil with alluvia of gravels of the quaternary period.
In the cellar
Vinification and fermentation at controlled temperature, long maceration over 6 weeks, fermentation and ageing in oak barrels, partly new and up to 4 wines.
Tasting notes
A deep ruby robe with purple hints, revealing red fruits aromas (blackcurrants, Morello cherries), pepper and vanilla. Silky and mellow on the palate, red berries persistence, delicate tannins with a nice finale. Laying down up to 8 years.
Food & wine
To serve with a roast leg of lamb or roasted game birds, beef ribs with thyme, sliced veal liver, grilled duck "magret" or cold magret cooked in coarse salt. Cheese: Pont l'Evêque